GLASGOW INTERIORS
I published my first book with author Helen Kendrick in 2014 on historical Glasgow Interiors, which has been well received. Both Helen and I have presented the book to a large audience at Glasgow's book festival 'Aye Write' on the back of it's success. 
'The coffee table treatment gives [these classic buildings] added wow factor' – Scottish Homes & Interiors
Glasgow has a spectacular array of buildings and is internationally renowned for its history of architectural innovation, design excellence and unique brand of urban glamour, both cosmopolitan and gritty. But unlike other world-class cities – London, Paris, New York among them – until now there has been no publication to showcase the interiors of Glasgow's built heritage.
This book offers a glimpse into a selection of Glasgow's most impressive historic interiors. Featuring 33 of the city's most alluring buildings – both public and private – Glasgow Interiors tells the story of the city's built heritage over the past 150 years. 
From a dramatic Victorian swimming bath and a glittering art deco restaurant to intricately detailed art nouveau warehouses and imposing Edwardian townhouses in the city's West End, this book demonstrates the extraordinary wealth of interiors that lie behind the façades of Glasgow's buildings.
The book is available to buy from the publisher here.
Prints are available to buy here: http://nealesmithphotography.bigcartel.com/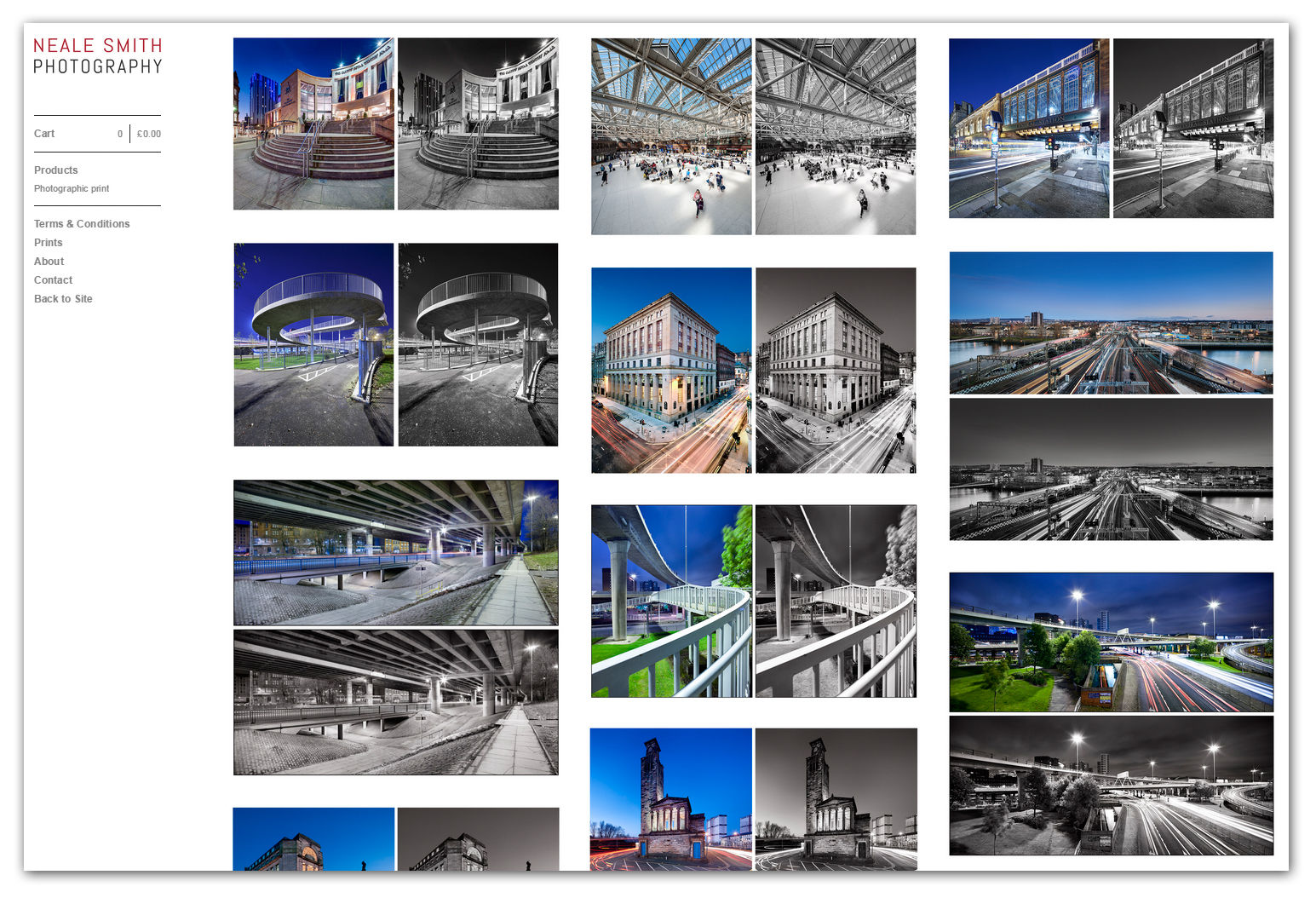 TESTIMONIALS
Here are a selection of testimonials from previous clients taken from my LinkedIn profile:
Darren McCann, Partnership Manager at CCG Scotland Ltd
"CCG have commissioned Neale on a few occasions now – taking in completed buildings and also action shots at our Off Site Manufacturing and Window & Door production facilities. On each occasion he quickly got to grips with the specifics of what we were looking for and then produced superb photo-sets which have proven invaluable in our promotional activity."
Alex Beardsley MCIM Chartered Marketer
Marketing and commercial finance support for SME's across Yorkshire and the North-East
"I have never met Neale but I have worked with him on a recent project for one of my most valued clients. Neale took on our architectural photography project and worked to a tight schedule, a woolly brief and in 4ft of snow and the end result was fantastic. I was pleased, my clients were delighted and the photographs he took increased the CTR from email to website...I would recommend Neale to anyone looking to work with a proficient commercial photographer."
John Wingate
Award winning architectural and workplace design - www.jamstudio.uk.com
"JAMstudio appointed Neale Smith Photography to take interior photos of a recently completed project which was the newly refurbished and enhanced Dalmore Distillery visitor centre. 
Neale successfully captured all of the images we wanted of the completed project and provided the images to us within the set deadline. We found Neale very enthusiastic and easy to deal with, and we would therefore have no hesitation in recommending him. We look forward to working with Neale again soon"
Elaine Campbell
Marketing and Development at The Douglas Hotel, Isle of Arran
"Neale has been a real pleasure to work with, he is very intuitive and he picked up on our needs brilliantly. 
Neale already came highly recommended to us, but am really happy to say that he did not disappoint...also, he is easy to communicate with, so I'd say, not matter what you want, or even if you just want to bounce some ideas, then give Neale a call. 
Our website looks great - thanks Neale!"
CLIENT LIST