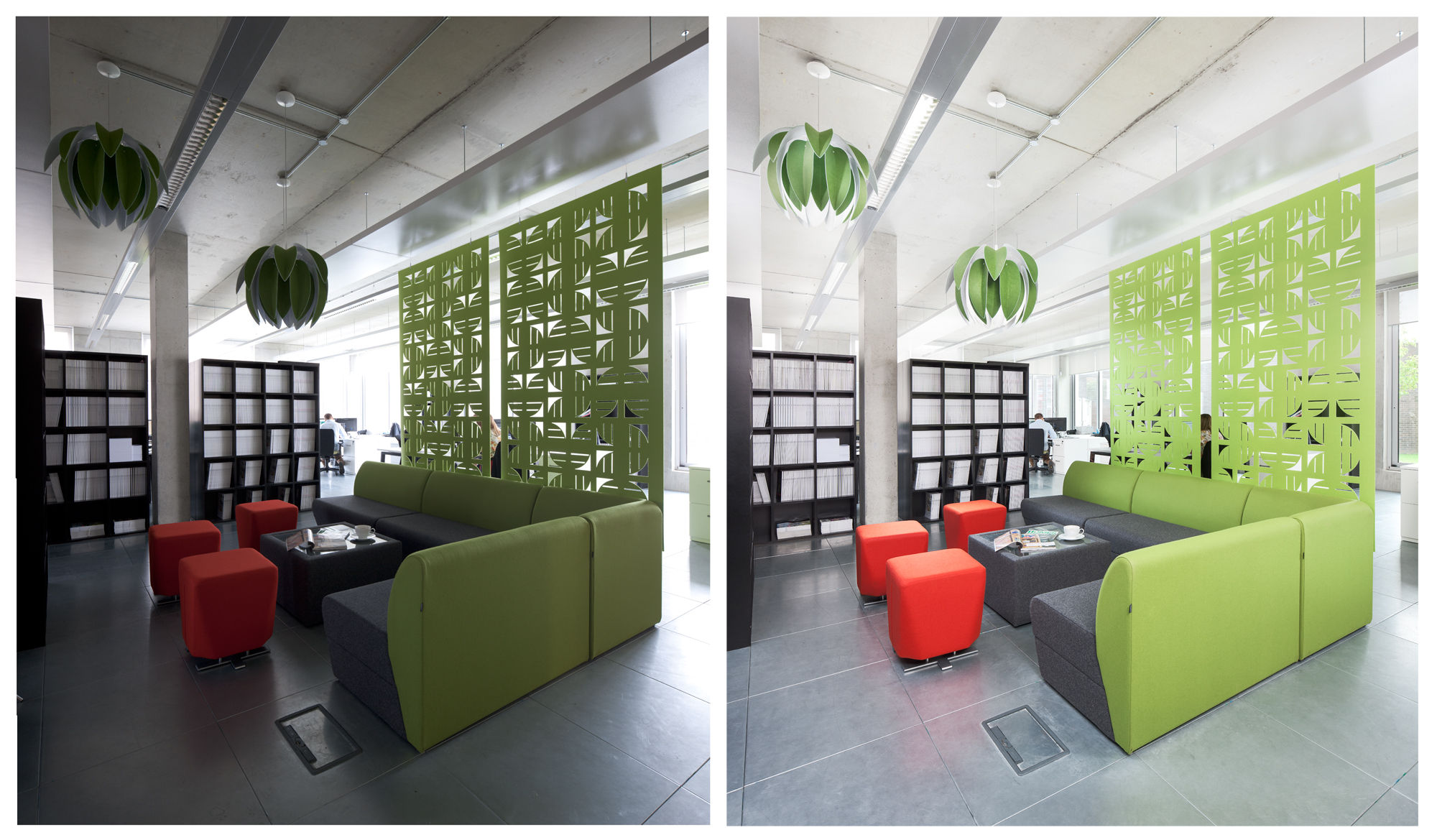 More office Photography, this time for the new Peebles Media Group headquarters at the Albus Building in Glasgow, designed by JM Architects. It's an interesting building, and they're in good company with the digital agency Made Brave upstairs, I'd love to get a look at their office to see how they've used the space. As you can see from the above frame, there was as always a fair bit of work to get from the ambient test shot on the left to the finished image on the right. My client wanted the office to be photographed whilst staff were working as well, to give the images a human element and look busy. Not easy to do when you're compositing and stitching as I always do, not to mention the strobe lights flashing at times, I have to use a lot of them at fairly high power to spark the whole place up. Again it was an open plan design, so options were limited for hiding the lights. The problems, even in a big bright space like this are fairly evident from the shot on the left, the windows are completely blown and the interior is fairly underexposed, probably at least stop. Here's a look at the middle shift shot which has been lit, prior to it being stitched to the other two shifts.
As you can see most of the heavy lifting is done by the lighting, you can just see the base of one of the lights on the bottom right hand corner, this was moved for the final shot. The image still isn't quite finished, obviously it still has to be stitched, and you'll also notice some highlight lighting has been composited into the final shot to subtly pull you're attention into the shot and give some depth.
I quite like the exposed floor plates, although I don't fancy the job of keeping them clean. My client wanted me to try and convey the brightness and openness of the spaces, with the exception of this shot, this space is supposed to feel a bit more closed in. You can see the full set of images on my website here, further to that I also have the full set of the Aubin office images from my previous blog post here.